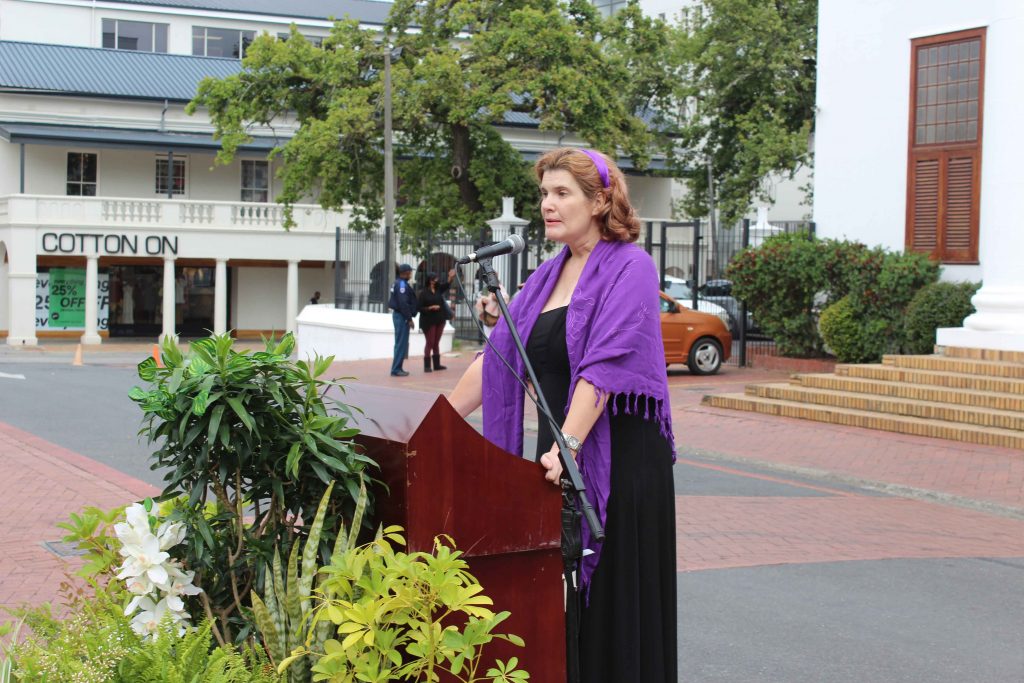 25 November 2020

Statement by Executive Mayor Gesie van Deventer
[FOR IMMEDIATE RELEASE]
The Executive Mayor of Stellenbosch Municipality, Adv. Gesie van Deventer, today launched the municipality's commemoration of the 16 Days of Activism Campaign for No Violence Against Women and Children.  
Statistics South Africa estimates that on average one in five South African women older than 18 have experienced physical violence. In most cases, those responsible for the horrific crimes and abuse are known to the victims. StatsSA further estimates that nearly half of women across South Africa are subjected to violence by an intimate partner.
"One in five, that is a shocking number that we can no longer ignore or simply wish away! As a Municipality, we will be advocating our SHARP campaign for the full 365 days of the year. SHARP – to See, Hear, Act, Report and Participate in a way that promotes activism every day of the year," said Mayor van Deventer.
Dr Else Van Der Watt of the Stellenbosch Safe House delivered an inspiring message of support for the 16 Days of Activism campaign and provided a first-hand account of the many challenges currently experienced by the Safe House due to the COVID-19 pandemic. This year has been particularly challenging for the Safe House, as COVID-19 regulations have made it nearly impossible for them to embark on their normal fundraising initiatives. The Municipality has therefore pledged our support for the Stellenbosch Safe House Purple Mile Project, which aims to raise much-needed funds in order for them to keep their doors open.
The Purple Mile concept works as follows: Individuals purchase a box containing a purple ribbon, a purple balloon and purple face mask which must be worn or displayed outside homes and offices on 10 December 2020, the last day of the 16 days of activism campaign. The Purple Mile box costs R100 each. All funds will go directly towards supporting the Stellenbosch Safe House. 
Mayor van Deventer thanked the Stellenbosch Municipality Community Development Department, the various local NGOs, safety partners and community members who work tirelessly all year round to assist those who are faced with violence and abuse. The Mayor personally pledged a R1000 towards the Purple Mile Project and encouraged any resident with the means, to contribute whatever they can.
"Let us speak out and be a voice for the voiceless – not just over these next 16 days but throughout the year," said the mayor.
To get involved in the Purple Mile Project, please contact Funeka Mayembana 
Photos of the event are available on request. 
Media queries:
Stuart Grobbelaar T: 021 808 8172 | C: 084 036 1395
Mart-Marié Haasbroek T: 021 808 8024 | C: 072 910 3724