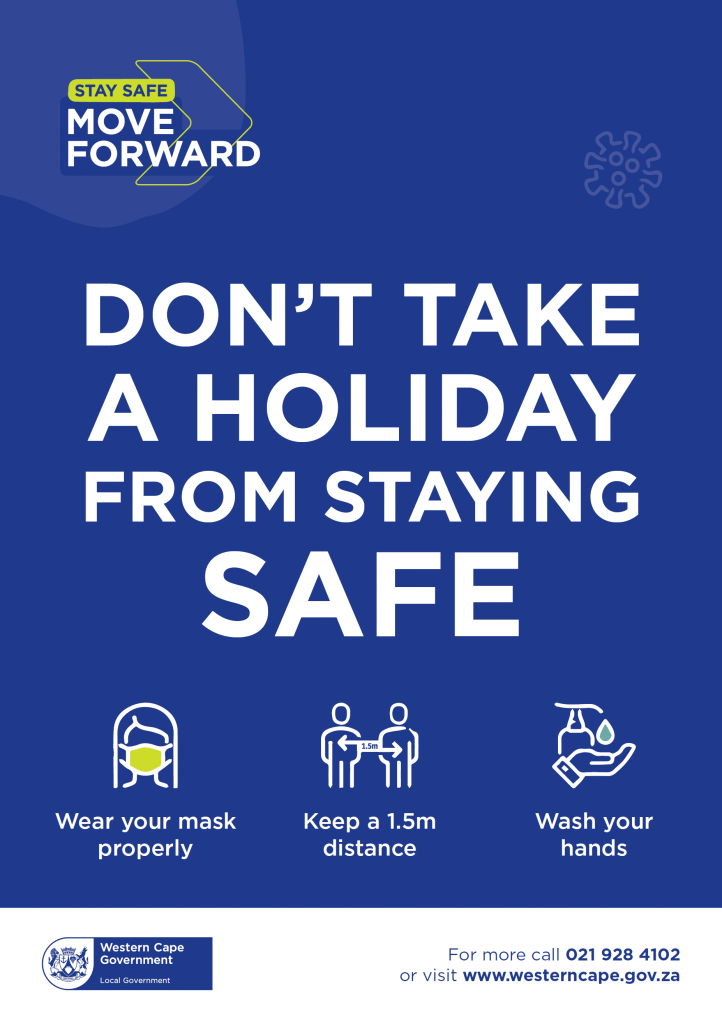 14 December 2020
Dear Resident,

As this most unusual year draws to a close, the new buzz word at the end of 2020 seems to be COVID-fatigue.
COVID-fatigue describes a situation where we are tired of hearing, listening, talking or even acknowledging the existence of COVID-19 and the impact thereof. This fatigue is completely understandable as we emerge from 2020 with a sense of shock and horror.
We have been, and in some instances still are, separated from friends and family by this disease. Many people have lost their jobs, lost loved ones, been confined to our houses or faced unprecedented hardship due to the COVID-19 pandemic and the subsequent national lockdown. And now, as we are approaching the Festive Season, a time normally associated with joy, celebration and togetherness, we are again informed that COVID infections are on the rise and that the dreaded second wave might impact our Christmas celebrations.
On behalf of Council, I want to plead with all our residents, visitors and businesses to please gear up and fight against COVID complacency. Please do not for a single moment think that this infection has become any less dangerous. People are still dying from it in large numbers, and although some countries are rolling out vaccination programs, it might be some time yet before we see a vaccine distributed in South Africa.
If our health infrastructure is subjected to extreme pressure due to COVID-19, the National Government might introduce more restrictions or even another lockdown period, and I know that we want to avoid this at all cost. Our already fragile economy will not be able to survive such measures.
I therefore want to ask all our residents, our local businesses and visitors to please adhere and respect the COVID regulations. Please do not make it difficult for those businesses who apply strict COVID measures, it is in your own interest as much as theirs. It is only by cooperating and working together that we will able to avoid more stringent restrictions or a harder lockdown.
When you meet with friends and family do so in well-ventilated spaces or preferably outdoors. We have so many beautiful outdoor spaces and venues in our valley, ideally suited for safe celebrations.
Wear your mask! Please do not only put your mask on to enter a shop and and then remove it as soon as you pass the entry/exit point. Keep your mask on in public spaces, crowded spaces, offices and when you are interacting with people. Also ensure that you wear your mask CORRECTLY! Many people seem to wear a mask only over their mouths. This is incorrect and does not provide any protection at all. Your mask must cover your mouth and nose.
Sanitise and/or wash your hands regularly and avoid touching your face. Strict hygiene protocols have proven very effective when combined with wearing a mask to reduce the spread of the virus.
We are working with our partners to share information and encourage residents, visitors and businesses to cooperate with our efforts to stop the spread of COVID-19. Please cooperate and be considerate during the Festive Season, so that we can approach 2021 with new hope.
Save lives with safe habits! By working together and sticking to the rules, we will ensure that our businesses remain open and our people remain safe. Let's spread some festive cheer this holiday season, not COVID-19.
Mayor Gesie