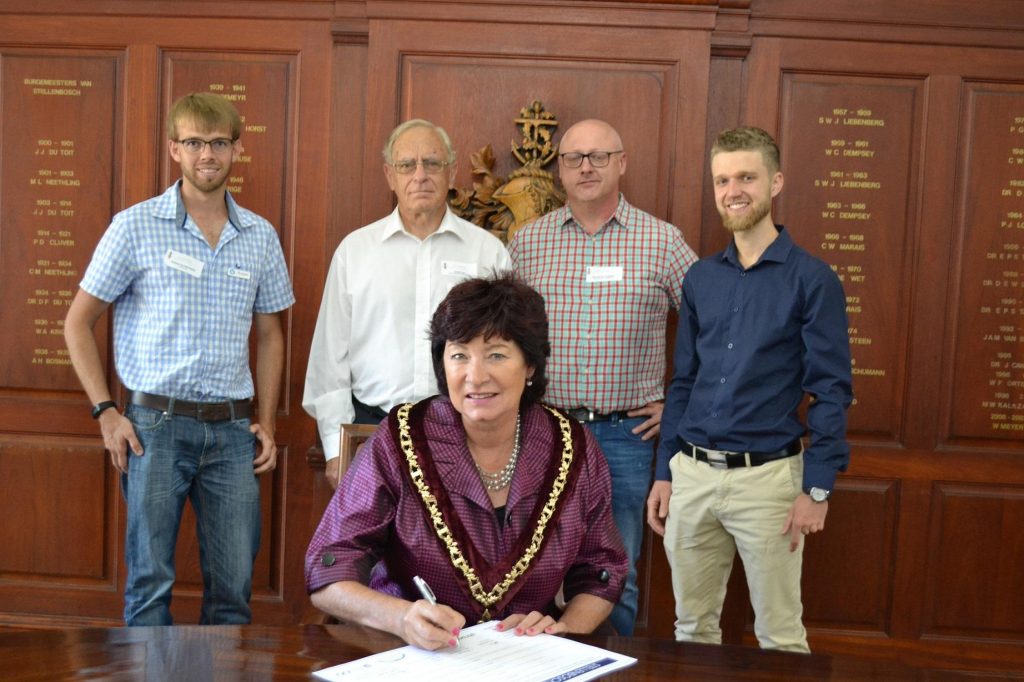 Mayor van Deventer urges Stellenbosch residents and visitors to make a big change with their small change by giving responsibly.
Adv. Gesie van Deventer – Executive Mayor of Stellenbosch Municipality
FOR IMMEDIATE RELEASE
Destitute people living on the street are a universal concern and a challenge that is not unique to Stellenbosch. Although there are many organisations that try to assist, isolated efforts can only go so far due to limited resources.
That is why Stellenbosch Municipality, in line with its mandate, has stepped up to bring various stakeholders together and combine our resources to create a project that will provide a more holistic approach to assisting homeless people on a more sustainable basis.
The Stellenbosch, Give Responsibly campaign is a culmination of months of talks and cooperation between various non-governmental organisations, stakeholders and the Municipality. It started with a summit, initiated by Mayor van Deventer, in August 2018.
This project is focussed on encouraging residents, visitors and students to make responsible choices when giving to street people. Research has shown that simply giving money keeps people on the street, because it is often financially rewarding for them. The collective aim of this project is to provide our destitute people with the necessary resources to survive, but also to assist them to access social and government services. The ultimate goal is to reincorporate them into society.
The coupon system has been in a soft launch phase since January 2019 and more than 800 coupons have been sold. The system works as follow:
You purchase a coupon for R10 at any of the participating retailers where the Give Responsibly poster is displayed;
You write the person's name, the person for who the coupon is intended, on the coupon (to prevent reselling) and select one of the services (a plate of food, a blanket or a night in the shelter) on the coupon.
The recipient then goes to the chosen organisation to trade the coupon for services.
The key to the success of this project is the collaboration with community organisations and partners. Although several organisations were operating their own coupon systems, the systems were not integrated and the coupons were not widely available. By bringing the NGO's together, the municipality created an opportunity for cooperation on a greater level than ever before. This resulted in Heartflow NPC, a local NGO, developing the concept we are officially launching today, supported by the Municipality.
Our partners in this initiative have all done invaluable work in our community for many years, and as a municipality we are dependent on their support and cooperation. Our collaboration includes Straatlig, Stellenbosch Night Shelter and the University of Stellenbosch with support from Feeding in Action. They will also look into possibly assisting us in gathering important data and providing it to the Municipality. This will help us with future initiatives to assist people living on the streets.
We encourage all residents, students and visitors to support this initiative. The coupons are available from several outlets in Stellenbosch *. We are dedicated to working together and addressing the challenge of street people in a sustainable and positive way. As the program grows, we will be speaking to more and more local businesses and restaurants so that we can further increase the distribution network, making the coupons even more easily accessible.
The Municipality and our partners welcome any feedback relating to the initiative to assist us with future development. Your contributions can be sent to: michelle.aalbers@stellenbosch.gov.za or charl.reyneke@gmail.com.
The Mayor ended off her address at the launch with the famous quote by Ronald Reagan: "We can't help everyone, but everyone can help someone." She continued "by supporting this initiative, you will be helping us to help those in need. Make a big change with your small change and support the Stellenbosch, Give Responsibly Campaign!"
*List of outlets:
Tony's Barber;
PostNet (Plein Street and Andringa Street);
Cash Crusaders, iThemba Curious;
Super Spar (Boord);
Kwik Spar (Neelsie);
BP petrol station (Merriman Street and Dorp Street)
Moeder Gemeente;
NG Kerk Stellenbosch Wes and Welgelegen,
Joshua Generation,
Kruiskerk
Christ Church