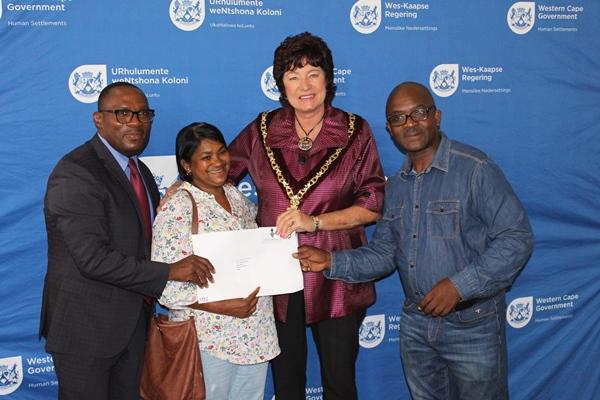 Statement by Executive Mayor Gesie van Deventer
---
Executive Mayor Gesie van Deventer was joined today by Western Cape Minister of Human Settlements, Bonginkosi Madikizela, to hand over 135 title deeds to families in Mooiwater, Franschhoek.
Giving residents ownership of their homes is a priority for the municipality because it creates new opportunities for the beneficiaries. A title deed gives a person the ownership of a property and acts as a passport to participation in the economy. As a responsible and caring local government, the Stellenbosch Municipality understands that our people have a fundamental right to own property. A title deed provides a valuable asset to a family and empowers them for generations to come. 
The deeds handed over today form part of the Mooiwater Housing Project in which 231 new houses have been built. The project cost R31.86 million and was initiated to provide safe and dignified living conditions for Groendal residents and backyard dwellers. The oldest beneficiary today is Ms Christina Hoffman, who turns 76 this year.
The transfer of title deeds is the continuation of a commitment made by Mayor van Deventer upon taking office in 2016. At the time, Stellenbosch Municipality had a backlog of nearly 2700 title deeds that needed to be transferred to beneficiaries.  Last year, three big title deed handover ceremonies took place and today is the first title deed handover event of 2019. The next title deed handover ceremony has already been scheduled for Human Right's Day (21 March 2019) in Jamestown. 

The handing over of deeds forms part of our commitment as a local government to ensure dignified living conditions for all our residents. The Mayor added that she urges all new home owners and their families to take care of their new assets, as it has the potential to unlock many economic opportunities for them and their children.