Joint media release, Stellenbosch University and Stellenbosch Municipality
---
How to handle water and waste in your household when you live in an informal settlement such as Enkanini, are some of the life skills that learners will acquire after completing a unique course, developed as part of a collaboration between Stellenbosch Municipality and the Stellenbosch University Water Institute (SUWI).  The Iqhawe Lemvelo (Nature Hero) educational project is unique as it addresses issues that children living in informal settlements have to deal with on a daily basis. It forms the educational arm of the Amanzi Yimpilo (Water is Health) project, a collaborative effort between Stellenbosch University (SU) and Stellenbosch Municipality to improve municipal water, waste and sanitation services in Enkanini.
The Executive Mayor of Stellenbosch, Advocate Gesie van Deventer, says the project is the result of committed "town and gown" cooperation to uplift especially disadvantaged communities: "Through education we are empowering our young people to better assist local government in dealing with water and waste challenges."
Dr Leanne Seeliger, a senior researcher from SUWI, says learners from informal settlements are often disadvantaged by a school system that do not cater for their specific needs: "The children do not have the social networks that children living in formal housing do. We follow a place-based approach that enables them to learn from their own lived experience," she explains.
Dr Seeliger developed the approach with Prof Chris Reddy from SU's Faculty of Education, while working in the Enkanini Education Centre for the past seven years. The curriculum covers topics such as dealing with water and recycling waste in your household and community.
A group of 60 Grade 6 to 9 learners from Ikaya Primary School, Kayamandi Primary School, Makapula High School and Kayamandi High School have been attending the programme since the beginning of the second term. After completion of the programme in November, each learner will receive a Nature Hero-certificate.
Mr Kamohelo Mculu, a project manager with Stellenbosch Municipality Infrastructure Services, says there is currently a major drive within the Municipality to provide improved water and sanitation services to Enkanini residents: "The municipality, the university and the community are working closely together to improve living conditions in Enkanini," he said.
The Iqhawe Yemvelo project is run by Paul Roviss Khambule, Meluxolo Mbali and Yondela Tyawa from Enkanini, in close collaboration with researchers from SUWI.
More about the Amanzi Yimpilo project: 
The Amanzi Yimpilo project is an outflow of the Rector and Executive Mayor's Forum, a joint structure that facilitates collaboration between Stellenbosch University (SU) and Stellenbosch Municipality to the benefit of the entire town and community. The aim of the Amanzi Yimpilo project is to research the challenges around water, waste and sanitation services in the community, and how to improve it. While SU's Water Institute is responsible for the research and facilitation process, the project is funded and supported by the Stellenbosch Municipality's Infrastructure Services Department.
The project involves workshops, a water ethics survey, the Nature Hero education project and a water monitoring application. The Amanzi Yimpilo team consists of individuals from Enkanini, trained as co-researchers by SU, and employed by the South African Government's Extended Public Works Programme.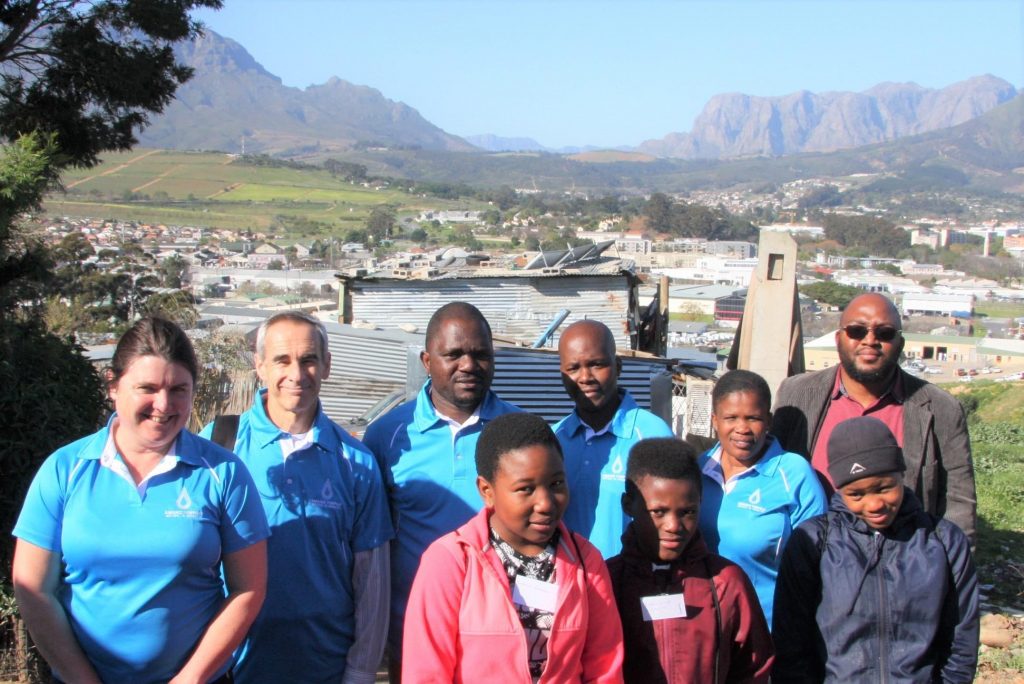 Issued by Martin Viljoen, Stellenbosch University, and Stuart Grobbelaar, Stellenbosch Municipality

Media interviews
Dr Leanne Seeliger
Stellenbosch University Water Institute
Cell: 072 203 2113
E-mail: seeliger@sun.ac.za
Mr Stuart Grobbelaar
Stellenbosch Municipality
Cell: 084 036 1395
E-mail: stuart.grobbelaar@stellenbosch.gov.za