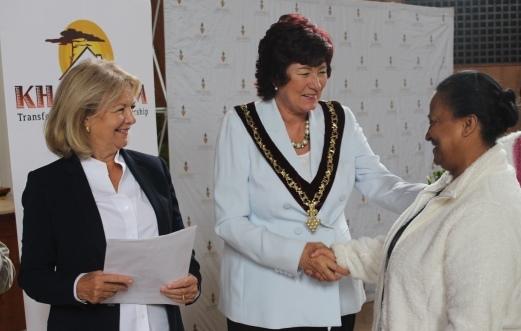 Mayor van Deventer hands over 326 title deeds
On 3 December 2018, the Executive Mayor Gesie van Deventer, handed over 326 title deeds to beneficiaries of various projects, from across the Municipal area. The handing over ceremony took place at the Stellenbosch Town Hall. This follows two previous handovers earlier this year, bringing the total to more than 620 for the year. One of the oldest title deed recipients on Monday was Mr James Mzalwana who is 89 years old.

Giving residents ownership of their homes is a priority for the municipality because it helps to redress the injustices caused by Apartheid legislation. It allows them access to the economic benefits that come with the owning of property and allows residents to alter and upgrade these properties to their needs, as they were never able to do before. Property ownership allows for a larger middle class and increased economic stability.

The transfer of title deeds is the continuation of a commitment Mayor van Deventer made upon taking office in 2016. At the time, Stellenbosch Municipality had a backlog of almost 2700 title deeds that needed to be transferred to beneficiaries.  As it is a costly and time consuming process, the assistance of the Free Market Foundation (FMF) Khaya Lam project, which is funded by the Reinet Foundation, is critical in our success. The Khaya Lam project, with the funding received from the Reinet Foundation, is assisting the municipality by funding the employment of additional temporary administrative support to increase our capacity and speed up the process of transferring registered title deeds. The Rupert family is part of the Reinet Foundation.

Stellenbosch Municipality is committed to continue the handing over of title deeds. The next handover event has already been scheduled for February 2019 and we look forward to making even more residents property owners in the Greater Stellenbosch.
Media queries:
Stuart Grobbelaar T: 021 808 8172 | C: 084 036 1395
Mart-Marié Haasbroek T: 021 808 8024 | C: 072 910 3724